Hybrid Backup (Online and local) – for corporate and personal users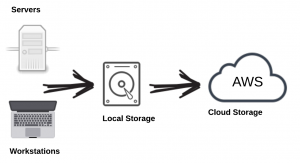 256-bit AES encryption
Image-based backup option
File/Folder based backup option
MS SQL Server, MS Exchange and Oracle backup
Restore as a VM in the Cloud (EC2, Azure VM)
Data Deduplication
Backup to local, cloud, or both
Main Features
Image Based Backup Block-level volume snapshots are taken and sent directly to the cloud, allowing dissimilar hardware or virtual machines restores.
Synthetic Full Backup Reduce the amount of uploaded data and accelerate full backup creation by reusing the existing data stored in the cloud.
Block Level Backup Backup only modified or new portions of files to add them to existing online data pool.
Scheduling and Real-Time Backup Setup hourly, daily, weekly, monthly backups or specify your own schedule. Real-Time backup allows to backup files and folders on Windows Server on change or creation.
Retention Policies Set up retention options to enable automated deletion of outdated data from your storage. Keep only actual versions of your backups.
Restore to the Cloud VM  BlueLink Online Backup allows to deploy Windows Server image from a backup copy image as an Amazon EC2 or Azure VM instance and get your physical or virtual server up and running in the cloud with a few simple steps.
Compression Reduce data overhead, decrease storage costs, aid bandwidth and accelerate backup completion with optional compression.
Network Locations Backup Back up your network locations including network shares, NAS devices, mapped drives, etc.
Email Notifications Set up customizable email notification feature to track each run of your Windows Server cloud backup and restore plans remotely.
Cost
Compare Backup Editions and Storage Requirement
To calculate your cost, select the appropriate license below, then add the cloud storage requirement
Step 1: Identify which license is appropriate
Supported features / Product type
Windows Workstation
Windows Server
Image based Restore
MS SQL
MS Exchange
Virtual Machines
Restore to EC2 & Azure VM
Network Shares
Price
Desktop/Server (File Backup)
–
–
–
–
–
1 share
$100/yr
Image based
–
–
–
1 share
$120/yr
SQL
–
–
1 share
$140/yr
Exchange
–
–
1 share
$160/yr
SQL+Exchange
–
1 share
$210/yr
Virtual Machine
–
–
1 share
$300/yr
Ultimate
–
Unlimited
$300/yr
Step 2: How much cloud storage do you need (A good rule of thumb is double the amount of raw data)
Cloud Storage

100Gb
200Gb
500Gb
1000Gb
2000Gb
More
Monthly Cost

$20
$40
$80
$120
$200
Not sure what is right for you?  No problem, we can help you!