Company Overview: Integrity in Technology
Our Philosophy
We understand how valuable a well designed and reliable IT system is for businesses and organizations such as yours.  We also know that when your IT system performs poorly or is otherwise unreliable, productivity and morale are impacted as well.
The end result is that you and your team can focus on what you need to do, and BlueLink IT handles your IT needs.

Our Story
BlueLink IT was founded in Española, New Mexico in 2008
BlueLink IT is 100% woman-owned
BlueLink IT maintains a statewide price agreement with the State of New Mexico since 2011

Meet Dharam Khalsa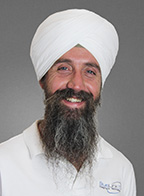 Trained in the Silicon Valley in the dot.com era, of the early 2000s, Dharam returned to serve his Northern New Mexico roots. BlueLink IT was formed in 2008 to serve a broad range of private, corporate, and government clients throughout New Mexico and nationally.

I could not be more impressed with BlueLink IT Solutions. We have utilized BlueLink IT to take care of important IT projects that are instrumental to the success of the company, and BlueLink IT comes through every time. They have consistently demonstrated the technical capabilities and professionalism that we require.
–Daya Khalsa, President – Akal Security Inc
I highly recommend BlueLink IT Solutions, they have always been very responsive and provide excellent customer care. On top of that the quality of service and technical knowledge is exceptional, providing me the comfort that my computer needs are being taken care of.
–Elizabeth Pettus, Owner – Things Finer
BlueLink IT Solutions has been able to help IPC Video stay focused on doing what we do best by augmenting our IT staff in support of our computer systems. Not only has BlueLink IT Solutions been available to assist us with our larger projects, and outages, they have been more than willing to provide training to our internal staff so that we become more capable ourselves. A high level of capability, integrity, along with a sincere desire to support our organization makes BlueLink IT Solutions a valuable resource.
–Mark Pritchard, Director – IPC Training and Media
Ryan McHargue elegantly solved two major file management problems I had from a remote location. It took less than two hours. I was tremendously impressed with his focus, knowledge, and ability to listen to my concerns and needs. Highly recommended.
–John Smallwood
BlueLink IT Solutions has been our sole IT Provider since 2008 .We have done several new Network and Server installations since then. BlueLink IT Is a very Professional and Efficient organisation. We like the fast Service we receive in case of Emergency. The Service Technicians are very Friendly and accommodating to our our needs. We highly recommend BlueLink IT.
–Ralf Moller, CEO/President Aromaland inc. Santa Fe, NM
Our non profit has worked with Blue Link for years. They are professional, reliable, knowledgable and conscientious.
–Nirvair Singh Khalsa
I have utilized BlueLink IT Solutions on a few occasions and have consistently found them to be competent, fair, and timely. They effectively handled bpth routine and complex situations very professionally. I plan to continue using their services as needed.
–Bob Greenwald
Provides timely support to our staff at the Espanola Advanced Center for Healing. They look for improvements in the service, for example, recommended a change in our phone service that significantly improved our internet services without increasing costs.
–Catherine Veilleux
I work with my clients remotely and BlueLink IT's SaberSync technology allows me to share large graphic files fast and securely. When I need new equipment BlueLink IT finds the perfect solution at the best price, and response time, with their remote resolution of issues is always great.
–Gurumeet Kaur Khalsa